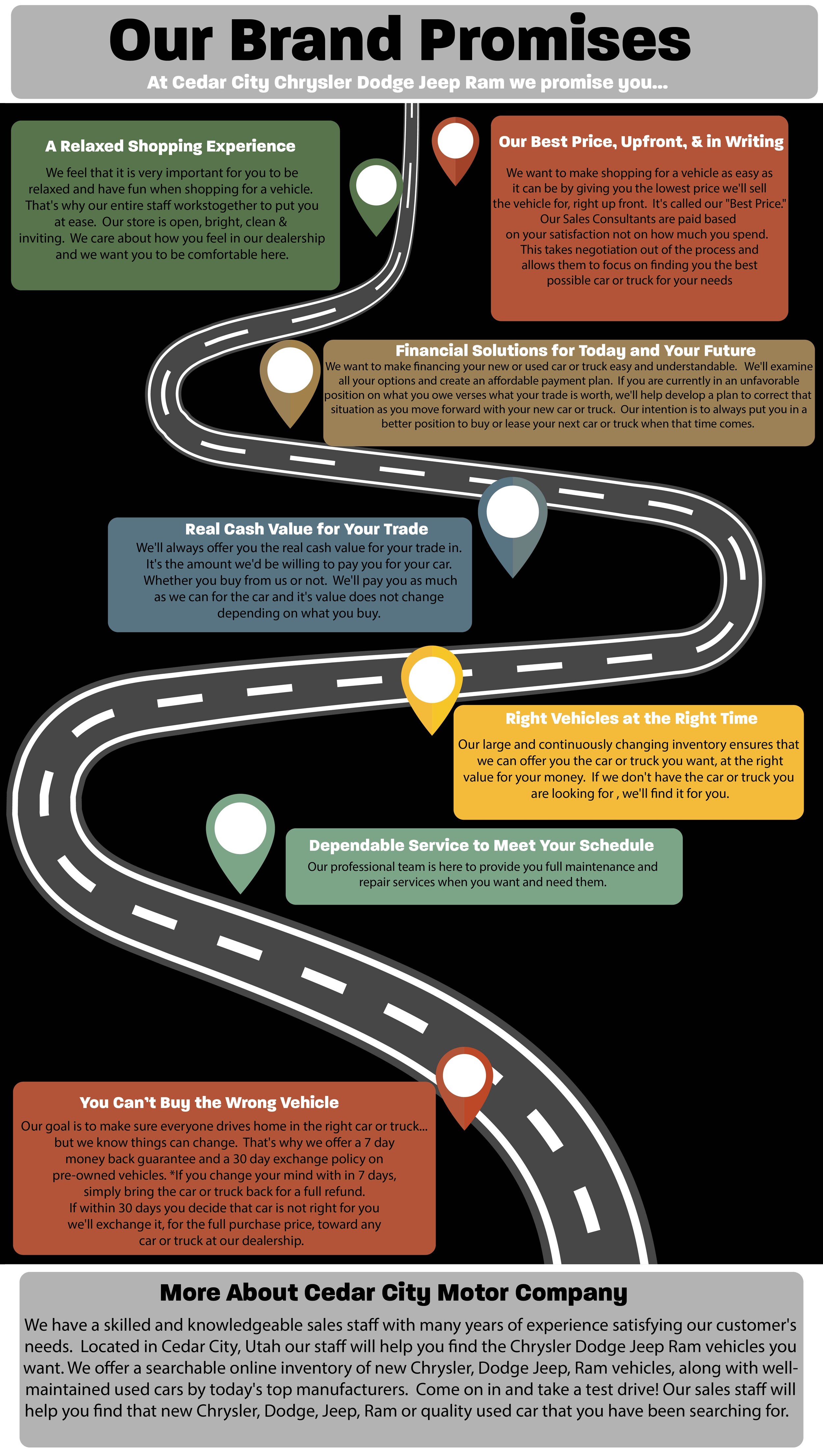 Our Brand Promises
At Cedar City Chrysler Dodge Jeep Ram we promise you...
Our Best Price, Upfront and in Writing... We want to make shopping for your next Chrysler, Dodge, Jeep, or Ram as easy as it can be. That's why we give you the lowest price we'll sell the vehicle for, right up front. It's called our "Best Price." Our Sales Consultants are paid based on your satisfaction, not how much you spend. This takes negotiation out of the process and allows them to focus on finding you the best possible car or truck for your needs.
A Relaxed Shopping Experience...  It is very important for you to be relaxed and have fun when shopping for a vehicle. Whether you're in the market for a 2021 Dodge Ram, or a new Jeep, our entire staff will work together to put you at ease.  Our store is open, bright, clean and inviting. We care about how you feel in our dealership and we want you to be comfortable here.
Financial Solutions for Today and Your Future... Financing your new or used car or truck should be easy and understandable. We'll examine all your options and create an affordable payment plan. If you're currently in an unfavorable position on what you owe versus what your trade is worth, we'll help develop a plan to correct that situation as you move forward with your new car or truck. At Cedar City Motor Company, our intention is to put you in a better position to buy or lease your next car or truck when that time comes.
Real Cash Value for your Trade... We'll always offer you the real cash value for your trade in. The amount we'll give you for your car or truck does not change depending on your next vehicle. We'll pay you as much as we can whether you buy from us or not. 
Right Vehicles at the Right Time... Our large, and continuously changing, inventory ensures that we can offer you the car or truck you want, at the right value for your money.  If we don't have the car or truck you are looking for, we'll find it for you. 
Shop our current new models:
Dependable Service to Meet Your Schedule... Our professional team is here to provide you full maintenance and repair services when you want and need them.
Your Can't Buy the Wrong Vehicle... Our goal is to make sure everyone drives home in the right car or truck, but we know things can change.  That's why we offer a 7-day money back guarantee and a 30-day exchange policy on pre-owned vehicles. If you change your mind within 7 days, simply bring the car or truck back for a full refund.* If within 30 days you decide that car is not right for you we'll exchange it, for the full purchase price, toward any car or truck at our dealership.* 
*As Is Vehicles excluded from the money back and exchange policy
More About Cedar City Motor Company - Our team at Cedar City Motor Company would like to thank you for visiting our website!
We have a skilled and knowledgeable sales staff with many years of experience satisfying our customer's needs.  Located in Cedar City, Utah our staff will help you find the Chrysler Dodge Jeep Ram vehicles you want. We offer a searchable online inventory of new Chrysler, Dodge Jeep, Ram vehicles, along with well- maintained used cars by today's top manufacturers.  Come on in and take a test drive! Our sales staff will help you find that new Chrysler, Dodge, Jeep, Ram or quality used car that you have been searching for.